Shop of the Month
The ACT recognise one bike shop each month with the title of Shop of the Month. A representative will review the shop to determine the key features that make it worthy of the title. The shop review will be available throughout the month for all to see.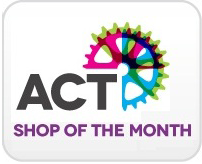 Are you a shop owner?
To be considered as a future Shop of the Month, make sure your promotional listing is up to date. All cycle retailers have a basic entry with the option of creating their own extended, unique, promotional listing, click here to find out more.
If you know of a shop that deserves to be our Shop of the Month, get in touch and tell us why.

ACT Shop of the Month | January | The Bike Shed (Wales)
The Bike Shed is Cardiff's friendly bike shop offering sales of new bikes, parts & accessories as well as repairs & servicing by qualified Cytech mechanics.
Bike Shed Wales supplies some of the world's finest bikes from some of the biggest brands, including Trek, Ridgeback, Bianchi, Genesis, Ridley and Pashley.
Bikes can be purchased on cycle to work schemes or via Ride it away cycle finance.
With an already well-established store in Pontcanna, The Bike Shed has recently opened a new branch at Tongwynlais near Cardiff, which incorporates a £100,000 showroom dedicated to women's cycling.
It is one of the biggest showrooms of its kind in Wales in terms of the range of road bikes and equipment on display. According to John Higgins, Director of The Bike Shed, "the aim of the showroom is to ensure women get the right bike for their needs, and the confidence to get full enjoyment from it.
"This will be backed up by regular evening bike maintenance classes, and support for a series of rides for women, organised with Sport Cardiff."
www.bikeshedwales.com
Previous winners

To see previous winners of the prestigious Shop of the Month click on the years below.
Don't forget to vote!
As members of the Independent Retailers Confederation (IRC), the ACT nominates the chosen shop of the month to represent the cycles industry in the Independent Retailers Confederation Shop of the Month.

Site visitors have the opportunity to vote for their favourite Independent shop of the month, which will then have the honour of being recognised as the Independent Retailer of the Month throughout the whole of the UK.
Support the ACT Shop of the Month by voting in the Independent Retailers Confederation (IRC) poll throughout the month.