Shop of the Month
The ACT recognise one bike shop each month with the title of Shop of the Month. A representative will review the shop to determine the key features that make it worthy of the title. The shop review will be available throughout the month for all to see.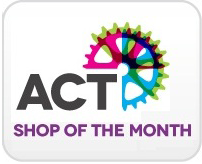 Are you a shop owner?
To be considered as a future Shop of the Month, make sure your promotional listing is up to date. All cycle retailers have a basic entry with the option of creating their own extended, unique, promotional listing, click here to find out more.
If you know of a shop that deserves to be our Shop of the Month, get in touch and tell us why.

ACT Shop of the Month | September | Langsett Cycles
Langsett Cycles is one of the oldest cycle shops in the country. It began trading around 1890 on Langsett Road and moved to the present Infirmary Road premises in 1930 and has been an integral part of cycling in the Yorkshire/Derbyshire area ever since.
During the 1980's Langsett Cycles were at the forefront of the BMX revolution. In more recent times Langsett Cycles were again at the forefront of the sport with a combination of top brands and riders.
Langsett Cycles have a very friendly and loyal workforce that have all worked in the shop for over 15 years. Whether it be a bolt for your kids stabilisers or help setting up the suspension on your new mountain bike, they'll be able to assist you.
The large shop means they are able to stock and display all kinds of bikes for all ages and needs.
They also have a large display of clothing and accessories including a new ladies only department.
Langsett Cycles are a Shimano Service Centre and have a fully equipped workshop with fully trained Cytech mechanics that can carry out any repair you have, including work on suspension units, disc brake systems, wheel building and truing all at very reasonable prices.
Previous winners

To see previous winners of the prestigious Shop of the Month click on the years below.
Don't forget to vote!
As members of the Independent Retailers Confederation (IRC), the ACT nominates the chosen shop of the month to represent the cycles industry in the Independent Retailers Confederation Shop of the Month.

Site visitors have the opportunity to vote for their favourite Independent shop of the month, which will then have the honour of being recognised as the Independent Retailer of the Month throughout the whole of the UK.
Support the ACT Shop of the Month by voting in the Independent Retailers Confederation (IRC) poll throughout the month.