Shop of the Month
The ACT recognise one bike shop each month with the title of Shop of the Month. A representative will review the shop to determine the key features that make it worthy of the title. The shop review will be available throughout the month for all to see.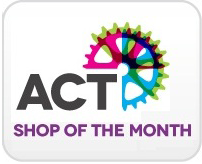 Are you a shop owner?
To be considered as a future Shop of the Month, make sure your promotional listing is up to date. All cycle retailers have a basic entry with the option of creating their own extended, unique, promotional listing, click here to find out more.
If you know of a shop that deserves to be our Shop of the Month, get in touch and tell us why.

ACT Shop of the Month |February | The Wadebridge Bike Shop
The Wadebridge Bike Shop are a family run bike shop in beautiful North Cornwall, who believe that everyone should enjoy the freedom of cycling.
They believe you don't need to be dressed in lycra from head to toe or to have the most expensive bike in the world to enjoy cycling.
Along with a great choice of bikes, they consider themselves to be a hub of all things cycling in Wadebridge, happy to promote local cycling club rides in the shop, on their website or Facebook.
With Cytech accredited staff manning their workshop customers can be safe in the knowledge that their bike is being looked after.
Bike are available via the Cycle to Work scheme and Ride it away retail finance, making it even more affordable to get your dream bike.
Previous winners

To see previous winners of the prestigious Shop of the Month click on the years below.