Shop of the Month
The ACT recognise one bike shop each month with the title of Shop of the Month. A representative will review the shop to determine the key features that make it worthy of the title. The shop review will be available throughout the month for all to see.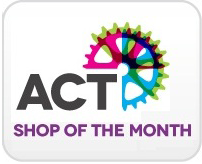 Are you a shop owner?
To be considered as a future Shop of the Month, make sure your promotional listing is up to date. All cycle retailers have a basic entry with the option of creating their own extended, unique, promotional listing, click here to find out more.
If you know of a shop that deserves to be our Shop of the Month, get in touch and tell us why.

ACT Shop of the Month | October | Top Gear Electric Bikes
Top Gear Ltd is a privately owned family business formed over 24 years ago. Owned and run by MD Peter Williams and partner Amanda Rolleston, Top Gear now sell only electric bikes, having quickly established themselves as the largest electric bike specialists in Cornwall since setting up their shop in Penryn in 2014.
Peter's many years experience, customer service and professionalism make him a unique distributor within the electric bike marketplace and Amanda's vast retail experience make her a valuable asset to the business.
With an array of products on offer including electric step over bikes, step through models, folding electric bikes, and now the Bosch powered Gepidas, Top Gear has been the first choice for many e-bike owners.
After many years of selling various different makes of electric bikes, they now specialise in Gepida, Wisper, Batribike, Oxygen, KTM, and Freego, and have them available to view and try at their premises in Penryn.
www.cornwallelectricbikes.co.uk
Previous winners

To see previous winners of the prestigious Shop of the Month click on the years below.
Don't forget to vote!
As members of the Independent Retailers Confederation (IRC), the ACT nominates the chosen shop of the month to represent the cycles industry in the Independent Retailers Confederation Shop of the Month.

Site visitors have the opportunity to vote for their favourite Independent shop of the month, which will then have the honour of being recognised as the Independent Retailer of the Month throughout the whole of the UK.
Support the ACT Shop of the Month by voting in the Independent Retailers Confederation (IRC) poll throughout the month.