Cycling for Women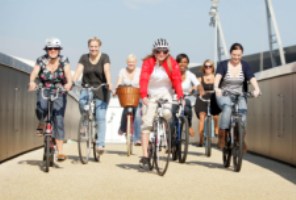 Riding a bike offers women so many benefits, yet research shows that women are much less likely to cycle than men.
Riding a bike helps keeps you fit, is a reliable form of transport and could save you a small fortune in travel costs. It's also a great way for you to do your bit for the environment.
To help you find a female friendly bike shop, The Cycling Experts have introduced 'Female Friendly' bike shops to the shop search. Wherever you see the Female Friendly icon, you can be certain that you will find a bike to suit your specific needs and friendly, helpful staff, willing to give you help and advice.

Get Started
There is loads of useful information online about where to ride, choosing the right bike and how to get involved with rides and cycling events across the country. Click here to see a list of useful sites.
British Cycling's Breeze Network is a national network of fun, local and flexible bike rides for women. The network is designed to help close the growing cycling gap between the number of men and women cycling regularly whilst empowering women to change the face of cycling for good.
Breeze is part of British Cycling's response to the growing gap between the number of men and women riding their bikes. Currently three times as many men take part in cycling regularly and the gap is growing. Yet around 1 million women have indicated that they would like to ride a bike more often.
Events and activities are planned all year round at a number of independent bike shops to promote local Breeze bike rides and offer women the opportunity to try out bikes and kit and ask any questions in an informal, jargon-free environment.
We know that many women face barriers to bike riding. Some of the barriers faced by women include lack of confidence, access to bikes, lack of time and family commitments. In response, Breeze has introduced a range of initiatives to support more women to get on a bike or back on a bike. Click here for more information.
Female Friendly Bike Shops


The thought of buying a bike, whether brand new or second hand, can be daunting for many women new to bike riding. Often a friendly face and some simple advice is all that is needed to help women buy a bike.
The Cycling Experts and the ACT (Association of Cycle Traders) want to recognise those retailers that offer a great service to women and support those that want to be part of the 'female friendly' network.
Find a Female Friendly bike shop now