ACT Shop of the Month | December | Giant Store Bromley
Giant Store Bromley opened in 2010 in the Greater London Borough of Bromley.
Giant, Bromley is run by cyclists, for cyclists. Bromley is a great place for cycling within commuting distance of Central London and the staff in the shop love to share their favourite cycling routes and secret hidden gems with customers.
The Giant Store has built a loyal group of customers since opening back in 2010 thanks to their friendly staff and expertise - they can help you choose the perfect bike or cycling gear whether you're just getting into cycling, tackling your first triathlon or competing in an off-road adventure race and can help you keep your bike in perfect condition.
Giant Bromley offer new sales of a very wide range of Giant bicycles - the largest bicycle brand in the world - as well as servicing for all brands, and even offer a women specific bike section, making it part of the Breeze and ACT's Female Friendly bike shop community.
Giant Bromley also help customers get the bike of their dreams by offering finance to customers via the Ride it away retail finance scheme.
ACT Shop of the Month | November | Bike and Run

Bike and Run are a multisport store for Cyclists, Triathletes, Runners and Swimmers with a good range of bikes, clothing and accessories and trained knowledgeable staff.
Bike and Run have two shops located in East Finchley - one offering commuter, nountain and family bikes and accessories and the other offering swimming and running gear plus road and time trial bikes.

The shop offers a selection of brands such as Ridgeback, Cannondale and Trek, and even offer a women specific bike section, making it part of the Breeze and ACT's Female Friendly bike shop community.
Bike and Run actively encourage customers to insure their bikes by promoting Fetch cycle insurance on their website. Fetch gives custyomers peace of mind that they're covered in the event that they are injured whilst cycling or their bike is stolen - with the added benefit of being able to get a repair or replacement in the same shop they bought it from.
Bike and Run are part of the Government's 'Cycle to Work' scheme which offers employees tax free bicycles, as well as offering 0% finance to customers via the Ride it away retail finance scheme - helping customers to buy the bike of their dreams.
View shop of the month
ACT Shop of the Month | October | Belhaven Bikes
Belhaven Bikes serve the East Lothian community and beyond whether you want to cycle, skate or scoot.
The shop was established in September 2005. It is family run and offers bikes for all generations including children's training bikes, scooters, skateboards and trikes. If you are looking for the latest Mountain Bike, Hybrid, Road Bike, Tandem, BMX, Tagalong or advice on components, Belhaven Bikes has friendly, knowledgeable staff always on hand to advise you.
A wide selection of Brands such as Dawes, Merida, Cervelo, Kuota, Ridgeback, Diamond Back, Raleigh, Haro, Surly, Blank, BSD and Premium bikes are available alongside Shimano parts. The busy Cytech accredited workshop dealing with all repairs, servicing and maintenance is also approved by the Association of Cycle Traders.
Cycle Hire is available all year round and we are part of the Government's 'Cycle to Work' scheme which offers employees tax free bicycles and other benefits. Custom bike and wheel building are services that can also be offered. Convenient easy parking, otherwise a pickup/delivery service is available.
View shop of the month
ACT Shop of the Month | September | Whittlesey Cycles
Whittlesey Cycles are a family owned independent cycle shop near the cathedral city of Peterborough in Cambridgeshire who pride themselves on providing a quality service at an affordable price.


They are dealers for Giant, Raleigh, Claud Butler, Dahon, Mongoose, GT, Batribike and Powacycle - with a particularly good selection of electric bikes and folding bikes available.

As members of the Association of Cycle Traders and workshop staff Cytech trained and accredited, customers can be sure their bike is in good hands when it needs repair or servicing.

Their fully equipped workshop undertakes all types of servicing and repairs, many at fixed prices. Whittlesey Cycles have a reputation for repairing electric bikes that other shops can't and will undertake the repair of all brands of electric bikes.

Whittlesey Cycles has also become the most recent shop to introduce their own bespoke digital card scheme with The Experts Cards, so customers will be able to give the gift of cycling just in time for Christmas!
ACT Shop of the Month | August | Back on Track Bikes

Back on Track Bikes started out as a repair workshop, moving on to selling high quality bikes, spares, accessories and clothing.
Mainly stocking Giant and Orange Bikes, every product and brand they stock has been chosen because it has been proven to work and offers great value for money.
The Back on Track Bikes workshop delivers professional servicing and specialist repairs, boasting a fully equipped, open plan workshop with an experienced Cytech cycle mechanic.

The shops also offer a number of services to their customers to help make buying their dream bike as easy as possible. From cycle to work to 0% finance via the Ride it away cycle finance scheme.
ACT Shop of the Month | July | The Bike Shed

The Bike Shed is a friendly, local bike store located in Barnstaple, Crediton and Exeter plus the recent addition of Lickety Split in Exeter.

The Bike Shed began with the Crediton shop, born out of MRS Motor Spares in 1994. The volume of business necessitated a move to the current, much larger premises allowing them to more than quadruple their stock holding, and to successfully instigate and co-ordinate many local events.

The acquisition of the Barnstaple Bike Shed widened their customer base significantly and enabled their range of products and services to expand even further.

In 1998 the Exeter branch was created with the purchase of Freewheel. In 1999 they moved to the larger 2 story premises in Fore Street as The Bike Shed.

The Bike Shed is a long standing member of The Association of Cycle Traders (ACT) and currently employs Cytech Level 2 and Cytech Level 3 mechanics across its three shops, with the Exeter branch boasting a ranking of 62 / 988 shops on the Cytech Retail Directory.

The Bike Shed stock most styles of bikes including road, hybrid, touring, mountain, BMX, tandem, kids, unicycles, electric, folding and everything inbetween.

Between all the stores they offer Specialized, Trek, Giant, Merckx, Orbea, Wilier, Bianchi, Dawes, Santa Cruz, Whyte, Marin, Bottechia, Felt, Dahon, Brompton, Koga Miyata, Mezzo, Claud Butler and many other brands.

The shops also offer a number of services to their customers to help make buying their dream bike as easy as possible. From cycle to work to 0% finance via the Ride it away cycle finance scheme.
ACT Shop of the Month | June | John Atkins Cycles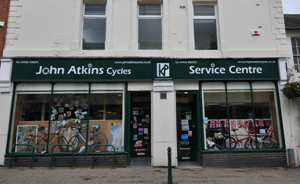 John Atkins Cycles have been involved in bicycle design, manufacture, assembly, retail and service for over 30 years. Their aim is to use their heritage and knowledge to ensure that the customer gets the best products and service available. Currently they offer pedigree brand cycles as well as a specialist custom build service.
As long standing ACT members, John Atkins Cycles are proud to be a Female Friendly bike shop, offering support and guidance to women as well as stocking women friendly bikes and accessories.
John Atkins also offer in store finance via Ride it away - giving their customers the opportunity to get the bike of their dreams by spreading the cost! Stocking well known brands plus some newer brands to the market, John Atkins Cycles offers a range of cycles to suit any customer - available both in store at John Atkins Cycles or online via Kinetic Rush.
Whilst Kinetic Rush caters for customers 24/7, the store is open 6 days a week and John Atkins aim to offer same day services where possible. The knowledgeable staff are happy to help because they are interested and care about the cycling community as well as being cyclists themselves.
The shop houses a modern workshop where 3 of their Cytech qualified mechanics can work on repairs or build new bikes without conflicting with each other. As a result of their care and attention they have earned the right to proudly perform under such titles as Shimano Service Centre, Campagnolo Pro Shop, Hope Pro Shop and Maverick Service Centre.
With experience of many niche brands and parts, the John Atkins workshop is well tooled and the workshop staff are confident to tackle even the most difficult jobs with care and skill.
ACT Shop of the Month | May | CJ Performance Cycles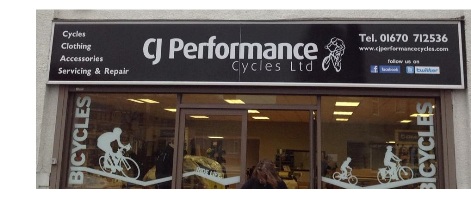 CJ Performance Cycles is a family run cycle shop located in the large and busy town of Cramlington, Northumberland.
Father and son, Mark & Chris, are the owners of the store and are both keen road & mountain bike cyclists. They can often be seen out in and around the local area on their Giant bicycles.
Founded in early 2010, due to the lack of performance bicycle shops in North Tyneside, CJ Performance set out to deliver one-to-one customer service to everyone - from beginner cyclists to enthusiasts.
The shop first began with GIANT bikes and has now begun to stock MODA UK Ltd, as well as selling a mix of brands in clothing, wheels & accessories. They also stock MONGOOSE & WE THE PEOPLE BMX bikes plus the ever popular scooters, JD Bug & MADD GEAR PRO.
Following a very successful first three years of trading, CJ Performance has recently moved to new premises, which was formerly a picture house in East Cramlington and is three times the size of the previous property!
The new shop houses a fully open operational workshop on site for servicing and repairs. Every bicycle is built on site and they offer customers a free 6 week service following every bicycle purchase. The shop spans over one very large floor with more than 70 bicycles in stock at one time.
With monthly offers and discounts, CJ Performance encourage customers to buy from a shop rather than a non-facing company, obviously if there are any issues with products or the customer needs advice there is always someone in store for them to have a chat to. Customer service is at the forefront of their business.
CJ Performance Cycles realises that a bicycle is an investment, and after your house and car can be one of the most expensive purchases you can make. To make it easier for customers to get the bike of their dreams, CJ Performance offer a wide range of buying options for their bikes, including cycle to work schemes and Ride it away finance.
ACT Shop of the Month | April | Off the Rock Cycles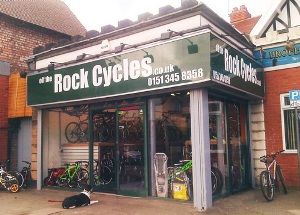 Off the Rock Cycles was founded in 2009 by Adam Lefeuvre, expanding from his online trial cycle business to solid premises and a wider range of bikes.
Off the Rock Cycles is a rider-owned and rider-run business, employing six biking enthusiasts in Wallasey, Wirrell. Between them, the staff cover all aspects of cycling, from trials, BMX, dirt, and mountain biking to road and fixie riding.
All the staff are committed to providing the best service, highlighted by the shops Cytech accreditation.
The shop stocks brands including Merida and Moda, as well as more established brands of a solid reputation like Claud Butler and Falcon (now rebranded CBR).
They also carry a range of BMX, Haro, Subrosa, Kink, FitCoBikes, Hoffman and the new Diamondback as well as dirt jumping bikes (UMF)

Off the Rock offer customers bikes on finance via the Ride it away scheme, giving them the chance to spread the cost of their dream bike.
As a Female Friendly bike shop, Off the Rock Cycles promotes cycling to women and even gets involved with Breeze bike rides.
The philosophy of the Off The Rock Cycle Club is "cycling for all". No matter what your ability or your bike, they arrange events to suit all their customers, including all-female events.
ACT Shop of the Month | March | Velocity Bikes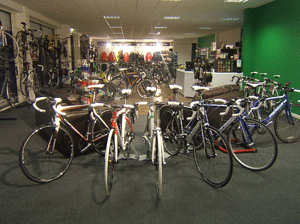 Velocity Bikes began in September 2001, as a family run business. Its modest beginning was from a small property in London Road, North End, Portsmouth. It was Tina that suggested making a go of it on their own, as Mike had been in the trade for more than 20 years, having gained invaluable technical and business experience as a workshop manager and shop manager.
Tina and Mike have watched Velocity Bikes grow and grow and are very pleased as to how the business is progressing. They moved to a bigger property which was two doors along from the original shop in London Road, again five years later moved to a purpose built cycle shop in Cosham where the business is run now. Velocity Bikes main brands are as follows: Dawes, Ridgeback, Genesis, Merida, Trek, Orbea, Saracen, Sabbath, Colnago and Mercian.
This shop has over four times the floor area of the old shop in North End, so as to accommodate a spacious retail area, as well as a newly equipped workshop with up to four workstations. There is specific clothing, Bike Fitting and seminar space. A comfy lounge area, with coffee on tap, will complement a welcoming atmosphere for all cycling enthusiasts.
Velocity Bikes offer their customers the ability to spread bike payments with a 0% finance plan via Ride it away retail finance. Offering a total of 5 plans for customers to choose from, depending upon the total amount borrowed, means every customer can find the deal that's right for them.
They are also a Female Friendly Bike shop , servicing the needs of their female customers with friendly help and advice as well as female specific products.
NOW CLOSED
ACT Shop of the Month | February | Dales Cycles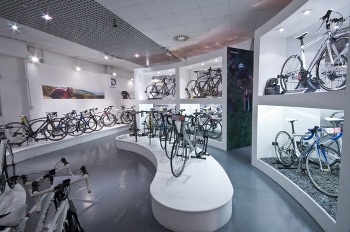 Since 1912, Dales Cycles has been part of cycling in Glasgow & the west of Scotland. Dales has grown from a small shop to the current 6000 square ft showroom in the city centre, still with the same family at the helm since the 1950's.
As well as offering everything a great bike shop should at their stores in Glasgow & East Kilbride, they also have a state of the art website where you can just pick up bits & bobs or go the whole hog and buy your dream bike.

Dales offer Ride it away finance - the easiest, quickest and most comprehensive bicycle finance package in the UK designed to offer an affordable way to buy the bike and accessories you really want!
The Dales stores are packed with all the best bikes from Specialized, Giant, Scott, Cube, Moda, Yeti, Electra, Brompton, Mongoose, GT, Merida, Mongoose, We The People, Premium, Early rider, Haro & many more. Some of these brands can be found exclusively in the greater Glasgow area, only at Dales Cycles. They also have a huge range of bicycle parts and accessories from all the names you would expect to find at a great bike shop.
There is also a dedicated clothing department with ranges from Endura, Altura, Gore, Specialized, Shimano & many more. Dales is home to Scotland's only Specialized BG-FIT studio, with Cytech qualified members of staff available for all your bike fit needs.
Dales are also pioneering The Experts Gift Cards, becoming the first Scottish retailer to produce and offer their bespoke gift cards in store.
ACT Shop of the Month | January | There Cycling
One of the aims of the Shop of the Month feature was to showcase UK bike dealers who are working within niches in cycling and presenting a portfolio of individual, non-mainstream products. These dealers often come with a refreshing zest and enthusiasm. Quite often these operators see the bicycle as something more than just a means of transport or exercise tool. In their own words - 'There Cycling presents the bicycle as an object of beauty and an expression of taste and style'.
Based in Hanwell, West London, There Cycling is the beautiful two wheeled lovechild of Jim Kent and Eliza Gomez. The shop promotes it's elegance and style by stocking brands like Pilen, Pashley, and Gazelle. Children are catered for with Danish brand Taarnby. The emerging transport and cargo bike category is also satisfied with the high quality Dutch Bakfiets bicycles and tricycles.
There is a real passion at There Cycling and the owners claim that they would be proud to ride, own and cherish any of their own products. Who can argue with that as a real life testament?
Like most modern bike dealers, There Cycling harness Facebook and Twitter to develop their community of customers but with such a photogenic portfolio of bicycles in the shop they are also using Pinterest to help spread the word and market the business to a global audience of bike lovers. The focus of the bikes for sale are beauty, quality and comfort - stylish traditional designs that utilise 21st century components to improve the enjoyment factor.
Carrying on the theme of style and function, the - www.there-cyclingshop.co.uk - website is very well designed with clean delivery and relevant content. The main brands stocked are clearly shown on the homepage and finding any of the products is only a couple of mouse clicks away. One gripe - Where is the phone number?! Especially relevant to a bricks and mortar store in a high street location, a phone number on the homepage gives comfort to customers.
There Cycling has a busy workshop that is open 6 days a week and they also run basic bike maintenance evenings for their customers - demonstrating how to adjust brakes, gears and how to fix a puncture properly. So, there you have it, There Cycling, a wonderfully stylish, modern, forward thinking, bicycle shop.
NOW CLOSED