ACT Shop of the Month | August | Noah's Ark
In 1983, Chris and his wife Charlotte opened independent Gloucestershire retailer Noah's Ark and started selling bicycles, then in 1989 also opened Noah's snowboard shop. The staff are all dedicated riders, whether it be on the mud, road or snow.
Noah's is located in one of the best cycling spots in the country, the Cotswolds. In 2006 they moved to a group of historic listed buildings in need of much repair, which has now been lovingly restored to how it looks today.
Just last month Noah's Ark expanded even further and now has a dedicated separate road bike store. The new shop is situated in the same Brimscombe complex and provides a more extensive range of equipment for road bike enthusiasts.
The older store will focus more on mountain bike equipment and specialists will be situated in each shop.
Noah's stock a broad range of brands including Specialized, Cannondale and Whyte, while their large, fully stocked workshop services all types of bikes from all disciplines Kids, Road, Mountain, Tri, Cyclocross and more.
www.noahsark.co.uk
ACT Shop of the Month | July | Cycle Mode
Cycle Mode is an independent cycle shop located in the centre of Grimsby, stocking and supplying a selection of high quality bikes, accessories and clothing.
Cycle Mode have a bike to suit everyone, whether you're into road racing, mountain biking, triathlon, commuting or just recreational cycling, Cycle Mode can help.
They stock many top bike brands including Cannondale, GT, Boardman Elite, Charge, Pashley, We the people (BMX), Hoffman (BMX) plus clothing and accessories from Castelli, Endura, Fizik, Sidi, Oakley, Garmin, Brooks, Kenny, and a wide range of other quality brands.
Cytech qualified staff are on hand in the workshop to give your bike the care and attention it needs, looking after your bike to ensure you are back on two wheels as quickly as possible.
All members of their friendly team pride themselves on providing exceptional levels of service and knowledge and share a genuine passion for cycling.
Cycle Mode accept a range of cycle to work vouchers and also offer Ride it away retail finance, to help make purchasing a bike more affordable.
www.cyclemode.co.uk
ACT Shop of the Month | June | Bay Cycles
The doors of Bay Cycles were first opened by Jez and Lisa, in St Marychurch, Torquay in 2013.
With over 30 years of cycle industry experience, the now expanded Bay Cycles' team, including their advanced apprentice Lucy, pride themselves on providing great customer service to their local cycling community.
Stocking some of the best brands in cycling, including Trek, Surly, Bontrager and more, Bay Cycles also offer a fully equipped workshop with Cytech qualified staff on hand to provide repairs to the highest standards.
Other services offered by Bay Cycles include, Bike fit consultations using Trek's proven Precision Fit process to help customers find the most comfortable riding position.
Further to offering great product and service Bay Cycles also offer a choice of payment options to help customers get the bike of their dreams including various Cycle to Work schemes in addition to Ride it Away retail finance.
ACT Shop of the Month | May | Off Beat Bikes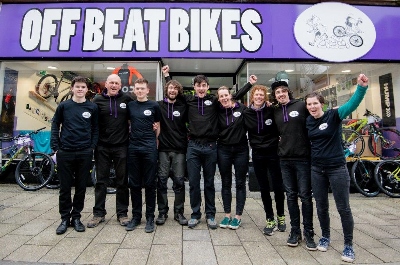 Off Beat Bikes originally opened in Fort William in the early 1990s. Foss and Nix Forster owned and ran the shop from 1993 to 2004 in which time it expanded from a back garden shed to a prominent High Street location. After being sold in 2004 the shop changed hands several times before closing in 2015.
Constantly seeing the empty building on the High Street was enough for Foss and Nix to think about picking up where they left off, and on 10th March 2017 Off Beat Bikes reopened.
Today, Off Beat Bikes is a cycle, running and swimming shop offering friendly advice, route ideas and information about local events.
The shop has a great selection of British made mountain bikes, road bikes, kids bikes and electric bikes for sale for all ages and abilities, plus cycle parts, accessories and clothing from Madison, Park Tools, Hump, Shimano, Evoc, Fox, and more. Off Beat Bikes also offer a huge range of bikes for hire to suit all levels of experience or ability.
As well as being able to buy or hire a bike from the shop, their qualified, knowledgeable mechanics can get your bike back to its best in their fully equipped workshop, open 7 days a week.

ACT Shop of the Month | April | Ridelow
Ridelow is a long- established alternative, independent store in the heart of Manchester's famous Northern Quarter.
Selling a range of goods, all individually sourced for their customers based upon
key criteria such as quality and affordability and choice, Ridelow specialise in selling bicycles and sell a range of different types from cruiser bikes to children's bikes.
Ridelow were responsible for importing the very first lowrider cruiser bicycle to the UK shores and this resulted in numerous celebrity endorsements of lowriders and they are often asked to supply lowriders for TV and Film productions.
Ridelow pride themselves on the quality of their customer service and will always aim to be innovative, creative and to keep evolving their business and product ranges. By listening to their customers feedback, they are now aiming to add a broader range of products to the website such as New Era Caps and Clothing.
Ridelow also provides finance through Ride it away, so customers can spread the cost of a new bicycle and cycling accessories over a 12 month period.
www.ridelow.co.uk

ACT Shop of the Month | March | Hooked on Cycling
Hooked on Cycling Bike Shop was established in 1997 in Bathgate, West Lothian. Their store is the largest independent specialist cycle dealer in West Lothian stocking the major brands; Boardman bikes, Colnago bikes, Cube bikes, Scott bikes, Sabbath and Dawes Bikes.
Hooked on Cycling are road bike fitting specialists. They have a full road bike fitting system in store, using the Bici support fitting system and offer a complementary fitting on all purchases to ensure that they are of the correct size and set up for maximum comfort and performance. In their cycle fitting studio Hooked on Cycling have the British Cycling Watt Bike; one of the most accurate ways to measure your power output and your spin cycle.
They also stock a full range of accessories, cycle shoes, helmets and clothing.
They have a fully equipped workshop with Cytech qualified mechanics who are happy to assemble a custom design bike from their top quality frames and accessories. They are also DT Swiss approved wheel building specialists.
Bike rental on request, and bikes can be purchased via a range of payment methods including Ride it away retail finance and cycle to work schemes.
www.hookedoncycling.eu
ACT Shop of the Month |February | The Wadebridge Bike Shop
The Wadebridge Bike Shop are a family run bike shop in beautiful North Cornwall, who believe that everyone should enjoy the freedom of cycling.
They believe you don't need to be dressed in lycra from head to toe or to have the most expensive bike in the world to enjoy cycling.
Along with a great choice of bikes, they consider themselves to be a hub of all things cycling in Wadebridge, happy to promote local cycling club rides in the shop, on their website or Facebook.
With Cytech accredited staff manning their workshop customers can be safe in the knowledge that their bike is being looked after.
Bike are available via the Cycle to Work scheme and Ride it away retail finance, making it even more affordable to get your dream bike.
ACT Shop of the Month | January | The Bike Shed (Wales)
The Bike Shed is Cardiff's friendly bike shop offering sales of new bikes, parts & accessories as well as repairs & servicing by qualified Cytech mechanics.
Bike Shed Wales supplies some of the world's finest bikes from some of the biggest brands, including Trek, Ridgeback, Bianchi, Genesis, Ridley and Pashley.
Bikes can be purchased on cycle to work schemes or via Ride it away cycle finance.
With an already well-established store in Pontcanna, The Bike Shed has recently opened a new branch at Tongwynlais near Cardiff, which incorporates a £100,000 showroom dedicated to women's cycling.
It is one of the biggest showrooms of its kind in Wales in terms of the range of road bikes and equipment on display. According to John Higgins, Director of The Bike Shed, "the aim of the showroom is to ensure women get the right bike for their needs, and the confidence to get full enjoyment from it.
"This will be backed up by regular evening bike maintenance classes, and support for a series of rides for women, organised with Sport Cardiff."
www.bikeshedwales.com