Ride it away - Cycle finance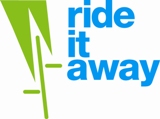 Spread the cost of a brand new bike and accessories with Ride it away retail finance.

Ride it away is an initiative created to help get more people riding quality bikes by spreading the purchase cost with retail finance. You can find it in specialist cycle shops nationwide.
Use our finance calculator now to find out how much you can afford.

We all know that cycling is good for the environment and even better for our health but when was the last time that you dusted down your bike and went out for a ride?
If you own a bike, chances are the tyres are flat, the chain's rusty and the brakes need a good service. Cycling is going through a revolution at the moment with people looking for an alternative way to exercise that saves them money, improves fitness and reduces carbon emissions. And those who commute using a bicycle benefit from mood enhancing endorphins released into the bloodstream during the ride.There has never been a better time to get on a bike!


Whilst everybody is having their finances stretched further than ever before getting on your bike will help to keep your hard earned money in your pocket for a little bit longer. Running a motor car means the expense of fuel, parking charges, insurance, road tax and the often forgotten but significant burden of vehicle depreciation. Commuting on public transport is both expensive and usually unreliable. Including depreciation and servicing you should be able to enjoy riding your bike for under £1 per day.
And buying a bike doesn't have to involve that initial cash outlay that you might imagine...
What is it?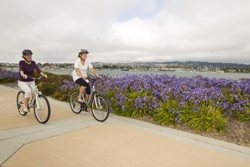 The Ride it away scheme is the result of a partnership between The National Association of Cycle Traders and V12, who provide finance packages tailored specifically for bike buyers and specialist cycle shops.
Ride it away shops are exclusively ACT members who form a national network of specialist cycle retailers stocking a wide range of bicycle brands and accessories with the facility for you to purchase using retail finance.
There is a range of finance options available from 0% APR to 15.9% APR over varying periods commencing with 6 months. Interest rates, terms and the products available may vary store by store. Local criteria may apply.
How do I ride a new bike away today?
First find your nearest Ride it away shop using the Bike Business Search; there are hundreds throughout the UK.
Select the bicycle and accessories of your choice - products available to purchase on retail finance may vary by dealership.
The Ride it away cycle finance application process only takes several minutes online processing in store and you could be riding away the bicycle and accessories you have always wanted.
Rates and deposits may vary depending upon retailer. Please contact the retailer of your choice to check on finance availability.
Find a Ride it away shop here.

Also available for snowsports and outdoors equipment: