Le Tour Yorkshire
The Tour de Yorkshire is a new three-day professional cycle race running across Yorkshire. The race began as a legacy event following the success of the visit of the 2014 Tour de France to the county.
2017 Tour - 28th April - 30th April

Stage one: 173km
BRIDLINGTON TO SCARBOROUGH - Friday 28 April
The race takes the peloton from the coast through the Yorkshire Wolds, starting outside the refurbished Bridlington Spa and heading into Pocklington for the first intermediate sprint. The classified climbs up the Côtes de Garrowby Hill and Goathland will get the legs pumping before the race hits the coastline again at Whitby where the riders will get a great view of the world-famous Abbey as they contest the second sprint of the day. The route continues on to Robin Hood's Bay for the third and final climb and then it's full steam into Scarborough for the now-legendary finish along North Bay.
Stage two: 122.5km
TADCASTER TO HARROGATE - Saturday 29 April
Starting on Tadcaster bridge - which will be newly reopened following flood damage last Boxing Day - this stage takes the riders through some of Yorkshire's finest market towns. They will venture into Knaresborough, where the first intermediate sprint points are up for grabs, and the day's sole categorised climb comes on the fearsome Côte de Lofthouse before the descent into Masham. It's on to Ripon for the second intermediate sprint and the race will skirt the stunning Fountains Abbey before a fast approach to Harrogate. The action reaches its crescendo along Parliament Street, just as it did on the opening stage of the 2014 Tour de France.
Stage three: 194.5km
BRADFORD TO FOX VALLEY (SHEFFIELD) - Sunday 30 April
Named The Yorkshire Terrier as this is the toughest stage in the history of the Tour de Yorkshire, riders will start at Bradford City Park before heading into Saltaire. The action then briefly joins the 2014 Tour de France route at Burley-in-Wharfedale before passing the majestic Bolton Abbey and into the Yorkshire Dales. Skipton is the next town on the agenda, with the first of eight categorised climbs being contested on the Côte de Silsden. The following ascent comes on the cobbled rise up Haworth's picturesque main street and another climb at Leeming must also be tackled before they face the infamous Côte de Shibden Wall. This cobbled brute could see splits form before the intermediate sprints in Clifton and Stocksbridge. Once those have been contested the riders then embark on a torturous 22km finishing circuit that features no-less than four categorised climbs at Deepcar, Wigtwizzle, Ewden Height and Midhopestones before the race reaches its climax at Fox Valley.
2016 Tour

The 2016 Tour de Yorkshire was split into three stages, with one stage taking place on each day of the race.
Stage 1 started in Beverley on Friday 29 April with a 186km ride across Yorkshire to Settle. The route through the East Riding passed through Holme on the Wolds and Market Weighton and included a sprint point in Bubwith.
Stage 2 on 30 April started in Otley and followed a 136km route to Doncaster. Stage 2 also saw the women competing over the same route earlier in the day as 14 teams came together for the Asda Tour de Yorkshire women's race.
Stage 3 on the final day started in Middlesborough and included six gruelling King of the Mountain climbs taking riders on a challenging 196km route to a sprint finish on Scarborough seafront.
Winner
Men's Race: Thomas Voeckler (FRA), Direct Énergie
Women's Race: Kirsten Wild (NED), Team Hitec Products
2015 Tour
Stage 1 of the 2015 Tour de Yorkshire started in Bridlington and 250,000 spectators turned out to watch over 125 professional riders take to the streets of East Yorkshire before the 174km stage finished in Scarborough
Stage 2 of the 2015 race started in Selby, travelling through Market Weighton, Walkington, Beverley, Wetwang and Stamford Bridge before finishing in York.
Stage 3 started in Wakefield and travelled through the towns and villages of West Yorkshire before finishing in Leeds.
Winner
Lars Petter Nordhaug (NOR), Team Sky
Legacy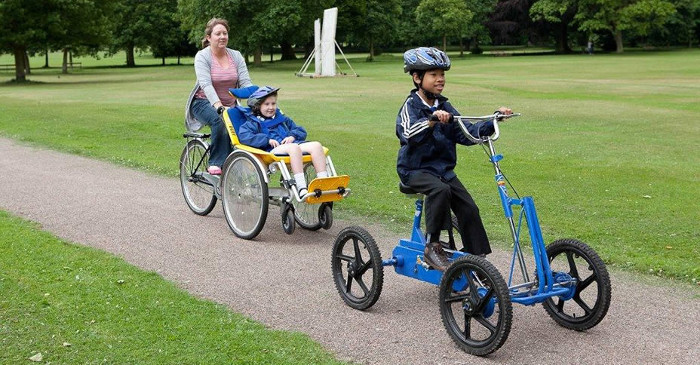 More people cycling more often
Cycle Yorkshire is a unique initiative seeking to use Yorkshire's Grand Depart to deliver a region wide cycling legacy for all generations and all abilities.
The last 10 years has seen a revolution in British cycling with Olympic and Tour de France successes galvanising enthusiasm and participation in the sport. Cycling has the potential to help address major social issues in the region through promoting healthy living, increasing green travel, boosting tourism and supporting social inclusion. Yorkshire has a rich cycling heritage.
The region is home to pioneers of British professional cycling such as Beryl Burton, Brian Robinson, Barry Hoban and Malcolm Elliott. More recently Yorkshire athletes Ed Clancy and Lizzie Armistead have been at the heart of British Olympic success.
Every year Yorkshire plays host to major races on the cycling calendar from professional road races to world cup mountain biking. Ilkley, Otley and Clifton cycle clubs are among the oldest in the country. Their members join thousands of other enthusiasts to take part in the hundreds of organised sportives and mass participation cycling events across the county each year.
The drive and passion for cycling in Yorkshire has a long history. Participation is above the national average across our region and York has been named in the top three best cycling cities in the country.
This is a great base from which to start but there is still a lot do. All Councils and Cycle Yorkshire partners are committed to building Yorkshire's cycling reputation even further.
There is still much to do
There are wide discrepancies in cycling infrastructure, participation and opportunities across the region. Cycle Yorkshire recognises this and has outlined five key areas of focus to address these differences. In conjunction with local authorities, key partners and its members, Cycle Yorkshire is a broad alliance of enthusiastic and passionate people who are committed to delivering a significant and enduring legacy of the Tour de France's visit to Yorkshire for this and future generations to come.
A legacy for everyone
Learning to ride a bike is a rite of passage for most children. The vast majority of us will remember our first bike, our first ride, that moment where the instability disappears and zooming around on two wheels feels as natural as a walk to the shop. It provides a new degree of freedom and independence, the ability to go where you want under your own steam; that injection of effort to climb a hill and the joy of descending the other side, becoming fitter with every ride.
Our view is that every child should have the opportunity to enjoy this experience and we hope this is yours too. This is why we ask every person in our great region to make it even greater and do your bit to get on your bike, ride more often and encourage others to do the same.
Too often, however, this enthusiasm and passion for cycling remains just a happy childhood memory and the bike gets consigned to the garage all too quickly. The practical issues of cycling to work, highway concerns, lack of awareness and confidence on how to get involved mean that cycling is sometimes overlooked as a leisure, travel and sporting choice.
Cycle Yorkshire has outlined five overall key objectives to address these issues and to get more people cycling more often in Yorkshire over the next 10 years:
1. Get more people cycling
Provide adults and children with greater training and access to cycling to build both the current and next generation of cycling enthusiasts, commuters and maybe even the next sporting heroes.
2. Make choosing cycling easier
Work closely with local authorities, businesses and partners to improve cycling infrastructure and facilities to address both real and perceived barriers to cycling.
3. More events to take part in
Broaden both the number and awareness of cycling events and opportunities for people of all generations and abilities to get involved.
4. Greater awareness of cycling and cyclists
Undertake a range of campaigns and events to generate a wider appreciation of the benefits of cycling, travel planning, bike safety and cycle friendly routes.
5. A thriving network of cycling businesses & social enterprises
Encourage and support all cycling related businesses in the region to provide a dedicated network of experts to sustain the Yorkshire's growing cycling community.
This can only be achieved by each and everyone of us living, working, investing and indeed visiting Yorkshire to do their bit, whether personally or professionally and make every part of our region the best place to live and the best place to cycle in for all the health, financial and environment benefits and especially because it is fun and brings families and communities together.