The Association of Cycle Traders
The Association of Cycle Traders (ACT) is the largest trade bicycle association in the UK and has been promoting cycling for over 100 years.
The ACT is a not for profit membership organisation representing the interests of over 4000 businesses involved the cycle industry through promotion, business support and skills development.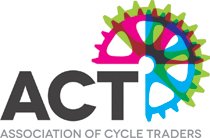 The ACT is committed to the longevity of speciality cycle retailing, an over-arching brand available to all independent retailers engaged in the UK cycle market.
The independent cycle retail community is the most important and wide-reaching contributor to the growth of cycling in the UK. Through a network of partnerships the ACT delivers a range of services to support specialist cycle retailers.
You can find a list of full ACT members, who fulfill the association's membership criteria here.
It is our members who enable ACT to continue promoting and developing the national network of specialist cycle retailers, doing our best to ensure a bright future for cycling and cyclists throughout the UK.
For cycle trade information and services visit the ACT website:
cycleassociation.uk
.