ACT Shop of the Month | December | Cycle Addicts
Cycle Addicts is an independent bike retailer run by cyclists, for cyclists.
Based in Rochdale in the North West, Cycle Addicts sell a range of bike gear in store and across the UK through the website. Cycle Addicts offer a wide range of mens bikes, womens bikes and kids bikes for all the family including mountain bikes, hybrid bikes, road bikes and more. No matter what type of bike you are looking for they can help you find what you need, plus they also have a wide range of bike gear including bike clothing, bike brakes, bicycle tyres and much more. If you are looking for brands, Cycle Addicts stock Orbea, Kona, Shimano and more.
As an independent bike shop, Cycle Addicts provide a first class service to their customers. They offer servicing, repairs and custom wheel builds in their workshop. With Cytech level two qualified mechanics customers can rest assured their bike is in safe hands.
Cycle Addicts are also a member of the ACT and a Shimano service centre, running a business with pride and enthusiasm, where everyone is welcome.
ACT Shop of the Month | November | Propel Bikes
Propel Bikes was opened at the top of Uckfield High Street back in May 2014. The shop, owned by Rob Pelham, prides itself on being 'Ukfield's local specialist bike shop'.
Propel Bikes exists to provide quality products & service at an affordable, value for money level to the cycling community of Uckfield & surrounding areas. Whether you ride for sport, fitness, fun, pleasure or just as a way of getting from A to B, they are here to serve you.
Bikes for all types of cycling including children's, commuter, leisure, mountain and road are for sale at Propel Bikes along with accessories and apparel. Full workshop facilities, with qualified mechanics, are also available to carry out servicing and repairs.
Most recently, Propel Bikes have added Ride it away retail finance to their repertoire of services, giving customer the chance to spread the cost of the bike and accessories they want.
ACT Shop of the Month | October | Quest 88
Quest 88 is a specialist cycle firm based in Shifnal and has won numerous awards for its equipment and customer service, having been in business for over 25 years, catering mainly for the disabled and people of limited abilities by creating specialist cycles, trikes, parallel tandems and recumbent bikes.
Quest 88 is a forward thinking company and, through its designs, aims to challenge public stereotypes about therapy and mobility equipment. This is achieved by supplying functional, adaptable products which are simple to adjust and pleasing on the eye.
Quest 88 are a national company offering assessments and demonstrations of Therapy products across the UK via their own product specialists, either at home, school, child development units or activity centres. Quest 88 supply cycles for cycling schemes and initiatives, supporting come and try days nationwide for prospective customers.
Quest 88 has over 25 years of experience in the design, manufacture and sourcing of activity based therapy products for children and adults. Quest 88 began manufacturing tricycles for children with Cerebral Palsy in 1991 and has developed and introduced additional products and accessories as they've evolved.
Quest 88 has a broad range of cycles to choose from, however, thye choose our products carefully, ensuring that they can provide the highest standard of service, including the speed at which they can deliver and ongoing availability of spares.
The Quest 88 range of cycles and tricycles enable children and adults with many different levels of physical and cognitive ability to participate in cycling alongside their peers, promoting fitness, fun and inclusion.
Recently, Quest 88 opened a new shop in the county to cater for an increased demand for its unique products, just in time for October which is officially Love Your Bike Month.
Based in Bennetts Business Centre, the shop will benefit from an association with 'Cycling Guru' Steve Holloway, of Bicycle Smart, Telford, who will offer expert advice and guidance for people wishing to try out the range of specialist and e-bikes, whether they are beginners or experienced cyclists, using his vast knowledge for correct fitting and safe riding of bicycles and recumbent machines.

ACT Shop of the Month | September | Larkfield Cycles
Larkfield Cycles is a family run business. Over the last 20 years it has grown into Larkfield's premier cycle stockist - your one stop cycle shop. Larkfield Cycles will cater for all your cycling needs and bring you the best brands.
All Larkfield Cycles' staff have extensive product knowledge in all different types of cycling from hard-core mountain biking, weekend leisure cyclist, sportive rider, road racer, kids bikes and all that's in-between. They can offer you tips and knowledge from years of experience.
Larkfield Cycles stock some of the top bike brands, including Cervelo, Cippollini, Parlee, Enigma for the road and Yeti and Orange for the mountain bikers. Plus, Ritte Vlaanderen and Bosberg Frames and Stainless Snob are soon to be available.
But it's not just the bikes that they sell. Their huge range of accessories also means they will have everything you need for your cycling needs big or small. With this unique mix of staff and product, Larkfield Cycles are very proud of the service they can offer.
Larkfield Cycles' workshop mechanics are all Cytech qualified, and confident that they can tailor thier services very accurately to your needs because they're riders just like you.
The fully equipped workshop means mechanics are able to work on fixing anything from an inner tube in a kids bike right through to fitting the latest DI2 group set to your top of the range TT bike.
The workshop team are happy to answer any enquiries and give good honest advice to help you decide what your bike needs.
Larkfield Cycles are helping to get every customer the bike of their dreams, with the help of Ride it away retail finance, giving customers the chance to spread the cost of their new bike and accessories. The shop also accepts Cycle to work vouchers, helping customers get tax free bikes.
ACT Shop of the Month | August | Urban Cyclery

ACT member shop Urban Cyclery is a rider owned and run cycle centre offering both a bricks and mortar and online customer experience.
Having traded successfully within Swansea City Centre from January 2011 to January 2014, Urban Cyclery relocated to the to a larger cycle centre on the outskirts of the city, encompassing a shop floor around three times the size of the original shop!
The original store was more heavily biased toward Road, Fixed and Single-Speed, but thanks to new larger premises the range has now expanded to cater for all types of riding and riders of all abilities from novice to competetive club rider.
With around 100 bikes always in stock, covering Road, Cyclocross, Mountain, Touring/Adventure, Urban/Hybrid, Fixed Gear and Single Speed & Childrens' bikes, plus an extensive range of Race, Leisure and On/Off Bike clothing, footwear, bags and accessories from Pearl Izumi, Madison, Bontrager and Mission Workshop, all riders needs are catered for.
Urban Cyclery offer a range of well established and up and coming brands that are at the cutting edge of innovation within the bike industry - from top-end race-ready models by Ridley, Trek, Genesis and Cinelli to Tourers and City bikes from Ridgeback. Relocation has also allowed for the expansion of their off-road offer and they are now able to carry a huge range of MTB's within the Saracen, Ridley, Trek and Genesis ranges over 26", 27.5" and 29" wheel platforms.
The range of products on sale are made more readily available to every customer with the help of Ride it away retail finance, giving customers the chance to spread the cost of their new bike and accessories. The shop also partakes in a wide range of Cycle to work schemes.
ACT Shop of the Month | July | Strada Cycles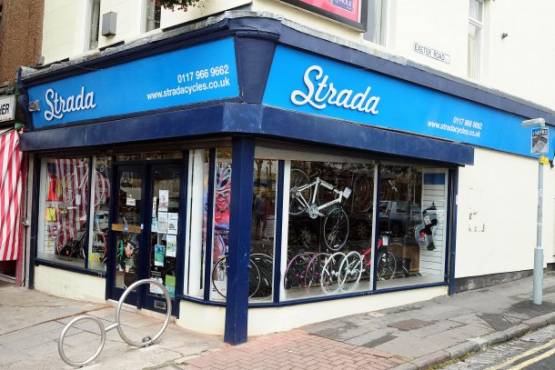 ACT members, Strada Cycles, is Bristol's friendly, independent bike shop. Catering for all disciplines, Strada Cycles stock a range of brands including Trek, Colnago, Cervelo, Enigma, Surly and more. They also stock clothing, parts, and accessories from the brands they like, trust and use themselves.
At Strada cycles what they offer is simple. Years of experience, a state of the art workshop, and a no nonsense plain english approach to getting your bike working as you want it to. The Strada mechanics are qualified to at least Cytech level 2, giving the shop a well-earned Cytech Accredited status.
The workshop is not only kitted out with qualified and highly experienced mechanics, but also the best tools to service your cycle or build your dream bike. They also offer a professional bike fitting service, having two bike fitters in store.
Strada know that your dream bike doesn't have to stay as just a dream, and help customers buy the bike they want with finance packages available through the Ride it away scheme.
ACT Shop of the Month | June | Mick's Cycles

ACT member shop, Mick's Cycles celebrates it's 44th anniversary this year after being founded in 1970 by Mick Hailstone as Micks Mopeds, operating from a yard in Victoria Street before moving to a shop in Out Risbygate. Over the years, as the demand for mopeds fell, the business decided to concentrate on bicycles and it became Micks Cycles around 25 years ago, moving to its current premises in St Johns Street in 1993.
The shop is still family owned, with Mick's son Derek taking over the business after Mick sadly passed away in 1991. Mick's granddaughter Chloe has followed him into the business too and Mick's widow Jessie is very much involved with the business and can still be found behind the counter from time to time.
The business has recently expanded to include a Bike fit studio and modern workshop facilities with qualified technicians specialising in repairs and servicing. Meanwhile the retail range is spread over two floors and also has an extensive range of clothing, shoes and accessories alongside the bikes themselves. The shop offers customers 0% Finance through the ACT's Ride it away scheme.
A keen cyclist herself, Chloe added: "We like to think that we can cater for every type of cyclist from those who want a serious competition bike to cycles more suited to family leisure and offer a range of leading bike brands which include Specialized, Marin and Whyte.
Mick's Cycles is open seven days a week and can be found at 68-69 St Johns Street, Bury St Edmunds.
ACT Shop of the Month | May | Enigma Bikes

ACT members Enigma Bikes are a British company building bicycles by hand here in the UK. Based in the rolling fields and forests of rural East Sussex amidst some of the UK's finest cycling country, the aim is simply to build beautiful, hand crafted, great riding bikes to challenge the best the world has to offer.
From humble beginnings in a converted cow shed a few years ago, Enigma has now moved to new, larger premises with 8000 sq feet of workshop space to further expand and improve their frame and bike building capacity. Enigma control of all aspects of the custom build process, doing everything in-house from the design, through the selection of tubes, assembly, welding and final finishing.
Their new state-of-the-art paint shop is a very important addition for the company and enables them to apply real individuality to each bike for those who like to be a little different from the crowd.
Enigma believe that a business is only as good as the people it employs, so the Enigma team is made up of very talented individuals with decades of experience between them, who gel as a group and whose skills complement each other. All are passionate about their company, about cycling and about the bikes they build.
ACT Shop of the Month | April | Bicycle Doctor
ACT members Bicycle Doctor have been selling and repairing all kinds of bikes at their shop in Rusholme South Manchester, for 30 years.

The shop is owned and run by cyclists. Between the six members of staff they have done most of what can be done on a bike; commuting, touring, racing, mountain biking, swanning around and just having fun. As a result, they can help and advise on every aspect of your cycling life.
All the mechanics are Cytech qualified, so you can be sure your bike is receiving specialist and expert care.
To help with the cost of a nice new ride, Bicycle Doctor offer interest free finance via the Ride it away scheme. Customers can spread the cost of a bike and /or accessories over 6 - 18months making is easier to get the bike of your dreams.
Bicycle Doctor sell a range of bikes and accessories to suit every cyclist. From customers looking for their first bike to someone looking for a specialist touring bike to span the world on; the staff will be pleased to help you pick, or custom design, a bike that suits your needs perfectly.
Their efforts don't stop when you leave the shop though, any bike over £250 gets 3 free services in the first year, with a service record booklet to keep track of all the work carried out on the bike; making it easier to keep your bike in great condition.
ACT Shop of the Month | March | JKL Bikes
JKL Bikes based in Knottingley, West Yorkshire are passionate about their customers and our community, with a strong network of customers, suppliers and friends who help to build a thriving cycling business.
Established in 2010 JKL Bikes is run by a fantastic team of professionals. James, Laura, Karen, John, Ken and Chris have a wealth of experience and expertise.
JKL Bikes stock quality cycling products and provide to everyone, from the novice through to the professional.
From cycle to work schemes to fitness training and therapy services, JKL Bikes offer their cyclists a complete package.
They also boast a range of bikes available for racers, commuters, off-roaders and kids, available at a range of price-points, and a leading servicing and repair service from Cytech qualified mechanics with over 70 years combined experience of cycle mechanics.
JKL pride themselves on having customers travel far and wide to enjoy a quality service, tailor-made to the individuals needs, with a relaxed customer experience.
JKL Bikes have also recently announced they will be offering retail finance to their customers via the Ride it away scheme, so customers will be able to ride away with their dream bike and accessories by spreading the cost!
ACT Shop of the Month | February | Criterium Cycles

Criterium Cycles, is a modern store that has been created in a new retail outlet based in Edinburgh.

Criterium Cycles pride themselves on being passionate about bikes with a team of friendly and knowledgeable bike lovers working in store who are keen to get more people on to their bikes.
Criterium welcome every cyclist, from leisure riders and commuters to sportive cyclists and super-keen competitors. Whether you're already a happy cyclist or someone that wants to become a happy cyclist, they welcome every customer with the same friendly and knowledgeable service.
Criterium Cycles sell a wide range of bikes, including children's bikes, mountain bikes, hybrid bikes, commuter bikes and road bikes, and to suit all budgets.
For any customer looking to buy the bike of their dreams, Criterium offer Ride it away cycle finance, giving you the option to spread the cost of a new bike helping you ride away the same day!
Criterium Cycles is more than just a place to buy bikes. Sales support and servicing is offered to all customers whether it's a one-off or ongoing.
They also offer, among other support, a Trek bike fit to ensure you cycle in comfort and with superb efficiency, hi-tech servicing equipment and highly trained mechanics, advice about clothing that comes from a wealth of experience, information about bike safety and essential cycling kit and expert customer service.
ACT Shop of the Month | January | Giant Store Bromley
Giant Store Bromley opened in 2010 in the Greater London Borough of Bromley.
Giant, Bromley is run by cyclists, for cyclists. Bromley is a great place for cycling within commuting distance of Central London and the staff in the shop love to share their favourite cycling routes and secret hidden gems with customers.
The Giant Store has built a loyal group of customers since opening back in 2010 thanks to their friendly staff and expertise - they can help you choose the perfect bike or cycling gear whether you're just getting into cycling, tackling your first triathlon or competing in an off-road adventure race and can help you keep your bike in perfect condition.
Giant Bromley offer new sales of a very wide range of Giant bicycles - the largest bicycle brand in the world - as well as servicing for all brands, and even offer a women specific bike section, making it part of the Breeze and ACT's Female Friendly bike shop community.
Giant Bromley also help customers get the bike of their dreams by offering finance to customers via the Ride it away retail finance scheme.