Add/edit a business
Show customers who you are, where you are and what you do...online promotion for ALL consumer facing cycle businesses.
To ensure the directory is as comprehensive as possible, all businesses are invited to add their basic contact details to The Cycling Experts for free. However, for the equivalent of just £3 per month why not get the most from your listing and show customers just how great your business is?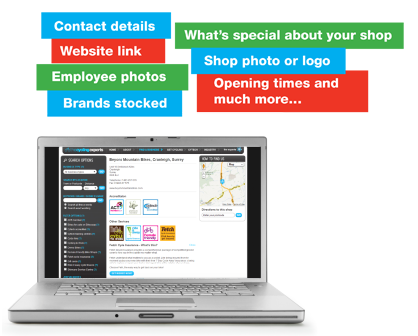 If you have a website, the listings can help drive more visitations; if you don't then this is a great way to get online without incurring huge costs.
The business search feeds an increasing number of other popular sites, enhancing consumer traffic and also opening up your business to different types of consumers.
The following list gives an outline of where the business search is shared.
Edit your listing

If you have already purchased a full listing and would like to edit or add any details, you will need to login to My ActSmart. If you cannot remember your login details please contact us.
Want to use our business search?

Any quality consumer websites that would like to benefit from accessing The Experts business search for their own sites should contact us.
ActSmart is the leading sports and leisure sector business support organisation. All data held within The Cycling Experts is the property of ActSmart and may not be copied without the written permission of ActSmart.