The Fastest Wrench
Compete against the clock in a test of bike maintenance skills with Cytech's Fastest Wrench.
The competition, held annually at the London Bike Show, is open to anyone - beginner or professional, Cytech qualified, or not. Are you up to the challenge?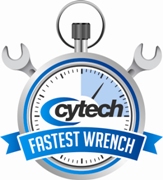 The Fastest Wrench requires competitors to remove an inner tube from the wheel, replace, inflate and re-assemble the brakes. Record the overall fastest time and you will be crowned The Fastest Wrench!
The current record, from 2008, is set at an impressive 44.62 seconds - will you be the one to beat it?
The winners will not only have the satisfaction of knowing they've fought off the competition to claim the title of Fastest Wrench, but will also receive one of our amazing prizes.
Participant times are recorded and displayed during the event as well as online after the show. Visit the Cytech website for up to date information about the Fastest Wrench including the 2016 leaderboards.