Back to news menu
British Cycling want a million more women on bikes
Posted on in Cycles News
British Cycling has challenged itself to get one million more women riding bikes regularly by 2020.
The governing body's "vision for women's cycling" will be launched at the Department for Media, Culture and Sport in London on Monday.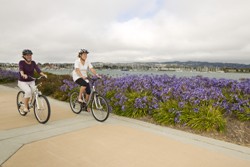 As well as the participation target, British Cycling also wants more female coaches, events, members and officials.
"We have never been scared of a challenge," said British Cycling president Brian Cookson. "The best thing about cycling is that anybody can do it. I'm looking forward to seeing more women riding bikes and enjoying every moment."
Jess Varnish GB Olympic cyclist commented: "We are not saying we are going to be perfect, far less that we are perfect now. But the direction of travel is important.
"Our aim is to inspire one million more women to get on bikes and we are determined to make this happen."
Whilst cycling in the UK continues to grow, there is still a long way to go for female cycling. A recent "leadership audit" of 57 sports by the Women's Sport and Fitness Foundation revealed that British Cycling was one of only six governing bodies that did not have any female board members. The study also found that just 11% of its full-time coaches were female.
Only a quarter of the once-a-week cyclists in England are women (525,000 out of a total of 1,962,000), but that number is edging upwards.
After the 2008 Olympics, British Cycling announced a target of one million more cyclists. That goal was reached last October and of those over a third were women (345,000). In 2012 alone, the sport added 200,800 regular riders, with almost a third (63,000) being female.
This is hardly surprising for a sport that has been dominated by men, at every level, for decades.
British Cycling's aims for women's cycling
More women and girls involved in recreational cycling through the Breeze participation programme and Sky Ride
Establish and develop series of entry-level races at key facility hubs in the regions
Establish 'get into cycle sport' regional coaching sessions based at facilities leading to races or sportives
Achieve higher growth rate of female members
Increase proportion of female members from 15 to 18% (9,500 to 25,000 members over four years)
Continue to increase number of women cycling frequently

Part of the credit for this must go to British Cycling for concentrating on the barriers women have cited for not trying the sport: concerns about safety, and a sense they would not fit in.
The Times recently revealed there were 122 cycling deaths on Britain's roads in 2012, although only eight of these were women. The perception remains, however, that female cyclists are more vulnerable, possibly because of the widely reported statistic from 2009 that 10 of 13 cycling deaths in London were female.
To tackle this concern, British Cycling set up "Breeze", a programme to get more women cycling for fun, with female-only rides on quiet roads, led by trained volunteers.
"If we can [get one million more women riding] it will go a long way to refreshing cycling's image so it is not seen as a sport only for men in Lycra," said British Olympic track cyclist Jess Varnish.
"The best thing about cycling is that anybody can do it. I'm looking forward to seeing more women riding bikes and enjoying every moment."
How can Bike Shops get involved?
The ACT have teamed up with the Breeze network to help promote female friendly bike shops. The 'Proud to support the Breeze network' scheme aims to help women find their nearest female friendly bike shop, and help retailers tap into a new market worth over £14m.
The scheme aims to recognise the work of independent traders to support women who are new to bike riding with straightforward advice, a range of women's bikes and family kit as well as information on local bike rides for beginners.
The ACT and the Breeze network want to recognise those retailers that offer a great service to women and support those that want to be part of the 'female friendly' network.
Since it's launch last year, almost 300 independent bike shops across the country are being recognised as Female Friendly, helping to bridge the gap between men and women in the cycling world.

If your shop caters to women, you could be recognised as a Female Friendly bike shop - simply fill in your details here.
Female Friendly bike shops will receive a window sticker for the shop window as well as promotion on The Cycling Experts shop search as 'Female Friendly.' Click here to find out more.

Add a comment