Back to news menu
HMRC include accessory only sales in cycle to work scheme
Posted on in Cycles News
HM Revenue and Customs has confirmed that cycle safety equipment on its own is included under the remit of salary sacrifice cycle to work limitations.
HMRC advised the Cycle to Work Alliance - a group of Cycle to Work scheme providers in the UK - that as long as the loan of the equipment meets the conditions in the legislation, there does not need to be a cycle involved.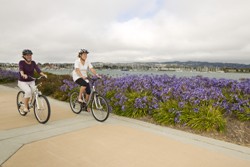 The Revenue said it is important to note that for a scheme to be valid an employer is required to make both bicycles and cyclists safety equipment available to its employees.
Previously it had been believed that, in order to take part in the scheme, an employee must sacrifice salary towards the cost of a bicycle in all instances and safety equipment could then be selected in addition.
According to HMRC, the guidance presents an opportunity for employers to remarket existing cycle to work schemes.
Many schemes that have reached maturity with regard to cycles may see renewed interest from staff who wish to replace some or all of their safety equipment in an income tax and national insurance efficient way.
At the end of the loan period, employers may wish to give staff the opportunity to buy their cycle and safety equipment, the value of which can be determined using HMRC's valuation table.
In using the valuation table, the original price of the cycle includes safety equipment fitted to the cycle but not safety equipment which had been worn by the cyclist. Safety equipment not attached to the bike is not subject to HMRC's valuation table.
HMRC classified safety equipment as anything that employees need to get them safely to and from work throughout the year. This includes equipment attached to the bike and covers lights - including dynamo packs, bells and bulb horns, locks and chains, mirrors and mud guards and children's seats.
HMRC said that: "Where used regularly for commuting and/or travel between workplaces, safety equipment worn by the cyclist is likely to have a market value lower than the table percentages for a cycle and cycle-based safety equipment."
Helm Godfrey deputy head of employee benefits Ed Smithson said: "The cycle to work scheme has been hugely popular as a tax-efficient employee benefit and encouraged many more people to get on their bikes.
"HMRC's new guidance should help inject further life into it. It's now confirmed that safety equipment, such as helmets, lights, locks and clothing, can be bought under the scheme without having to buy a bike itself.
"Employees can, of course, still get the bike. But if they already have one, obtained under Cycle to Work or otherwise, they can make use of the scheme to buy additional safety equipment. This new guidance is good news for cyclists and cycling and further increase the attractiveness of the Cycle to Work scheme to employers and employees," he added.

Add a comment