The London Bike Show 2013
As the first big cycling event of the year The London Bike Show will set the scene for all cycle fans in 2013 showcasing cycles, clothing and accessories from leading bike brands.
Visit the London Bike Show 2013
The London Bike Show is the UK's premier cycling exhibition and in 2012 attracted over 85,000 visitors. Whether road cycling, mountain biking, BMX, cycle cross, a family cycle at the weekend or commuting to work is your thing - you'll find plenty to interest you and have a great day at the show.
Get great deals, check out the latest bikes and equipment (including exclusive first views), get information from leading cycling organisations, listen to our fantastic selection of speakers, get an extensive assessment in the Bike Radar Training Hub, watch pro mountain bike riders in the Animal Bike Tour and even more!
Location and dates

London ExCel
Thursday 17th January - 10.00 - 18.00
Friday 18th January - 10.00 - 18.00
Saturday 19th January - 10.00 - 19.00
Sunday 20th January - 10.00 - 18.00

For details on how to get there click here
Buy tickets here
IG London Nocturne

The London Bike Show also features the IG London Nocturne, the UK's first indoor criterium. The IG London Nocturne consists of a series of exciting races, including a Men's and Women's Elite Criterium, Penny Farthing Race and a Folding Bike Race. The racing will take place over the four days of the show.
The 2013 London Bike Show takes place 17 - 20 January at ExCeL, London alongside The Outdoors Show, The Active Travel Show and the Tullett Prebon London Boat Show. With one ticket giving you access in to all four shows, there's even more to see and do representing excellent value for money and a fantastic day out!
Click here to find out more


CYTECH AT THE LONDON BIKE SHOW
Cytech, supported by the ACT will be present at the show, with Cytech trainers from ATG Training available to give tips and advice about bike maintenance and discuss Cytech training for both trade and public.
ARE YOU THE FASTEST WRENCH?
Back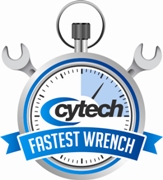 by popular demand, the London Bike Show sees the return of the Cytech Fastest Wrench competition.
Compete against the clock and fellow bike enthusiasts in a test of bike maintenance skills to see who will be crowned the Fastest Wrench 2013!
The competition will be taking place across all 4 days of the show at the Cytech stand by the Jaguar Performance Theatre. Why not come along on the free trade day and try to set the time to beat for the rest of the show.
The current record is set at an impressive 44.62 seconds - can you rise to the challenge?
Click here to register for Cytech Fastest Wrench
Book in Advance and Save!
For more information and to purchase tickets to The London Bike Show please visit www.thelondonbikeshow.co.uk.