Opening a bike shop?
We are regularly contacted by people who are setting up their own specialist bike shop, seeking advice and support.
If you are thinking of starting your own cycle business, the Association of Cycle Traders should be your first port of call.
The ACT can provide you with valuable advice and support through the entire life of your business. ACT is the leading cycle trade membership organisation, working with ActSmart to deliver essential services, business support, consumer promotion and development opportunities to the cycle trade.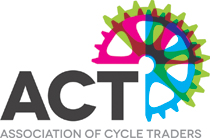 Consumer promotion
Sales development tools
Commercial cost savings
People, recruitment and skills development
Visit the ACT website to find out more.

Read the overview below and then refer to the links on the left to discover more about each of the key topic areas.
Businesses for sale:
Click on the links below to browse current businesses for sale.
All retail businesses for sale
Overview:
The cycle industry is infamous for its lack of market data, but two important market research exercises were undertaken during 2010. The first by Mintel reflected a significant re-estimation of their previous report, valuing the bicycle (only) part of the sector at c.£700m at retail value.
The second report from Allegra Strategies, published in October 2010 valued the UK cycle market at an incredible £2.15 billion; significantly more than previous estimates, including those of Mintel. This report was based upon a survey of over 18,000 consumers and 200 industry executives.
ACT's business support partner ActSmart, is recognised for producing the most detailed, regular analysis of the specialist retail sector sales trends in UK. ActSmart's analysis of the UK cycle market in 2010 is detailed below:
There are c.2500 specialist cycle retail shop fronts in the UK. All of which, including the largest, Evans are still classified as S.M.E.s.
'Specialists' excludes Halfords, and other mass merchant chains, but includes some of the larger internet based businesses e.g. Wiggle and Chain Reaction, which have grown out of IBDs (Independent Bicycle Dealers).
It should be noted that a significant and increasing element of the large internet retailer businesses sales are achieved in overseas markets, supported by the weakness of sterling in recent years.
ActSmart values the total UK market for bicycles, cycling goods and repairs at £1.5 billion at retail sales value net VAT in 2010.
Specialist retailers represent c.55% of the total market turnover, whilst Halfords, the largest single retail business with c.430 outlets, combining cycles with auto products and more recently outdoor goods, has a c.19% market share.
Halfords reported a reduction in their cycle market turnover for the period April - September 2010.
The remainder of the market is primarily low-end, made up of supermarkets, catalogue retailers, sports retailers and mail order. Only the supermarkets are making any real headway with regards to growth in this area. Most notable of these is Tesco, but their longer term appetite for a low margin, high maintenance retail sector remains under question.
2010 bicycle sales volumes are up after a slight decline in 2009 and are expected to value £800m - £850m at retail value net VAT.
Market growth is estimated to be between 5% - 10% over each the past 2 years, but much of 2009's growth was due to price inflation following the economic downturn and the weakening of sterling, plus the contribution of the Government's Cycle to Work scheme.
ActSmart reports regular and consistent month on month sales growth across the specialist retail sector, but there continues to be a wide variance throughout the UK, both regionally and by product category.
The higher-end committed cycle market remains relatively strong, as indicated by a 30% like for like growth achieved via retail finance on average £1000 transactions.
Volume at the entry level is resilient, but this is primarily due to new market entrants e.g. supermarkets. The mid-market is the most challenged in the current economic climate.
Volumes in the mountain bike market have continued to decline, but are being compensated for by the increase in commuter and leisure cycling.
Regional variances are impacted by economic influences, market demographics and cycling infra structure, most notably in London, where the most significant 'sustainable investment is being made in cycling.
The recent reassessment of market size is a reflection of the industry coming to terms with its real volumes, as opposed to a boom in cycling, but the cycle sector is growing faster than most retail markets within the UK and offers healthy medium term opportunity for growth.
The sector is highly diverse encompassing retailers of all shapes and sizes. Retailers can be split into a number of different categories, the most common being:
Family / leisure - low to middle priced bikes for adults and children
Specialist shops - mtb, road, touring or recumbent primarily for enthusiasts and regular commuters / leisure riders

Hire shops / centres - some retailing involved but mostly cycle hire and often part of or near, holiday centres and national parks etc.
The UK retail sector has proven overly male orientated historically, with the largest retailer trading predominantly as an automotive business and a large element of the specialist sector having expanded on the back of the mountain bike sports trade. This trend is very slowly beginning to change and offers possibly the greatest opportunity for retail expansion, by embracing the female market more and the family as a cycling unit.
There is also a growing trend towards diversification across the outdoors pursuits sector. With historically outdoor focused retailers moving into cycles and cycling products and bicycle retailers expanding into outdoor pursuits and snow sports product. This trend is international and is also reflected within the distribution sector and is set to continue.
The rewards:
The potential rewards from running your own bike shop can be great.
The opportunity to be your own boss making a living from something you are passionate about is immeasurable. Becoming a positive part of your local community whilst working with exciting new products and providing expert advice and knowledge are some of the other rewards you can gain from your new business.
Cycling is currently a "hot topic" on the political and social agenda, and increasingly promoted as a healthy, fun and cost-effective way to improve well-being and support the environment for all age groups. The road market has also benefited from a renewed profile of recent. This helps position cycle retailers as important locally based specialists - destination retailers - able to help people make the most of bikes and cycling.
The Government are increasingly investing in and supporting the development and promotion of cycling both nationally and locally through a variety of projects and initiatives, which include creating more cycle routes (Sustrans), creating a number of Cycling Demonstration Towns, as well as educating school children about cycling skills, providing tax incentives to employers to promote cycle usage, and investing in a national celebration of cycling - Bike Week - to prompt more people to cycle.
The reality:
There is a popular saying in the industry which goes something like this: "If you want to make a small fortune in the cycle trade, start with a large one."
Being passionate about bikes and cycling alone won't make you a successful independent cycle retailer. In the 21st Century shop owners need a good business brain to match their enthusiasm for the product and lifestyle.
There's also the hard-work and long hours associated with running your own retail business - which may well include everything from sweeping the floors and stocking the shelves, to maintaining your own website, managing the finances and training new staff.
Today bicycles are seen by many people as another price-driven commodity sold by supermarkets, non-specialist retailers and mail order providers. This means that specialists are under more pressure than ever before and are working harder to demonstrate their unique value to customers who very often "just don't get it".
Many consumers believe a £79.95 bike is a bargain and taking it away in a box just adds to the convenience; the skills necessary to build and maintain a cycle are often neglected. Large corporate chains have the marketing muscle to get their brand name into the majority of consumer minds and the buying power to get the best prices with the resources to ensure it all runs smoothly.
Combine these commercial pressures with the seasonal nature of the market - a wet summer isn't good for cycle sales - plus the ongoing demands of running a small retail business in an industry with typically low profit margins; and what seemed like a great idea in the pub doesn't feel quite so much fun now the reality has kicked in!
But don't despair...
The Way Forward:
Unfortunately we can't offer you a simple solution to make your new cycle shop a success, but we can help highlight some important areas for consideration.
What we can also say for sure is that modern cycle retailers must integrate their passion with some good straightforward business sense and an innovative approach to developing a niche retail business. In today's competitive market specialist retailers cannot compete on price alone - but if you're clever you can make your strengths work to your advantage.
Specialists have a lot to offer - good quality product, a commitment to great customer service and that personal touch which big corporate retailers just can't offer, plus local involvement and specialist skills. Effectively employing all of these can give you an edge over the competition and help you win and keep customers.
Use the links at the top left of the page to find out more.