Cycle journey planner
The Cycle Journey Planner is a cycle-specific satnav' smart phone app, which allows you to plan your cycle journey, finding bike shops and other points of interest on route.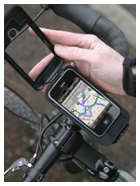 You can attach a smart phone to your handlebars and use the app with full-on 3D map mode and all of the usual satnav' info or the phone can be hidden away in a pocket, utilising voice guidance and vibration alerts.
The app was created to steer cyclists away from busy roads delivering a fast, safe and informed journey planner.
The Bike Hub Cycle Journey Planner app is available for free, thanks to funding from the industry's Bike Hub levy and can be downloaded from the iTunes app store and Google's Android Marketplace.
Find bike shops on route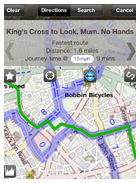 If you discover a problem with your bike whilst out riding or simply want to cycle and shop, the app can help you to find bike shops throughout your journey. The Cycle Journey Planner app includes data of specialist bike shops sourced from The Cycling Experts updated regularly by app users.
The app works on iPhones and Android handsets and uses a GPS fix to locate nearest bike shops. Click on 'directions to here' and you'll be guided from your location to your destination, from point A to point B via all on the best routes for bikes, including cycle paths.
Cycle Journey Planner Update
Subsequent versions of the app will be leisure-orientated, plotting a circular route from point A to point A incorporating a menu of 'points of interest' options, which will include National Trust properties and features such as churches, stately homes as well as bike shops.
The Cycle Journey Planner app will make the perfect tool for cycle tourists, day tours and for longer duration trips.
For more information about Bike Hub visit the industry website here.