Shop of the Month

The ACT will be honouring one bike shop each month with the title of Shop of the Month. A representative will review the shop to determine the key features that make it worthy of the title.
The shop review will be available throughout the month for all to see.
To see previous winners of the prestigious Shop of the Month click here.

If you know of a shop that deserves to be our Shop of the Month, get in touch and tell us why.
Are you a shop owner?

To be considered as a future Shop of the Month, make sure your promotional listing is up to date. All cycle retailers have a basic entry with the option of creating their own extended, unique, promotional listing, click here to find out more.

ACT Shop of the Month | May | CJ Performance Cycles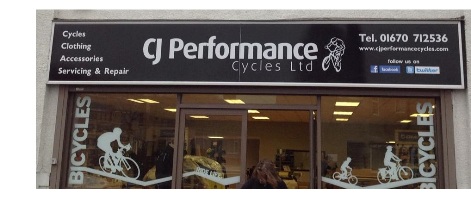 CJ Performance Cycles is a family run cycle shop located in the large and busy town of Cramlington, Northumberland.
Father and son, Mark & Chris, are the owners of the store and are both keen road & mountain bike cyclists. They can often be seen out in and around the local area on their Giant bicycles.
Founded in early 2010, due to the lack of performance bicycle shops in North Tyneside, CJ Performance set out to deliver one-to-one customer service to everyone - from beginner cyclists to enthusiasts.
The shop first began with GIANT bikes and has now begun to stock MODA UK Ltd, as well as selling a mix of brands in clothing, wheels & accessories. They also stock MONGOOSE & WE THE PEOPLE BMX bikes plus the ever popular scooters, JD Bug & MADD GEAR PRO.
Following a very successful first three years of trading, CJ Performance has recently moved to new premises, which was formerly a picture house in East Cramlington and is three times the size of the previous property!
The new shop houses a fully open operational workshop on site for servicing and repairs. Every bicycle is built on site and they offer customers a free 6 week service following every bicycle purchase. The shop spans over one very large floor with more than 70 bicycles in stock at one time.
With monthly offers and discounts, CJ Performance encourage customers to buy from a shop rather than a non-facing company, obviously if there are any issues with products or the customer needs advice there is always someone in store for them to have a chat to. Customer service is at the forefront of their business.
CJ Performance Cycles realises that a bicycle is an investment, and after your house and car can be one of the most expensive purchases you can make. To make it easier for customers to get the bike of their dreams, CJ Performance offer a wide range of buying options for their bikes, including cycle to work schemes and Ride it away finance.
Contact CJ Performance Cycles
Website: http://www.cjperformancecycles.com/
Tel: 01670 712 536